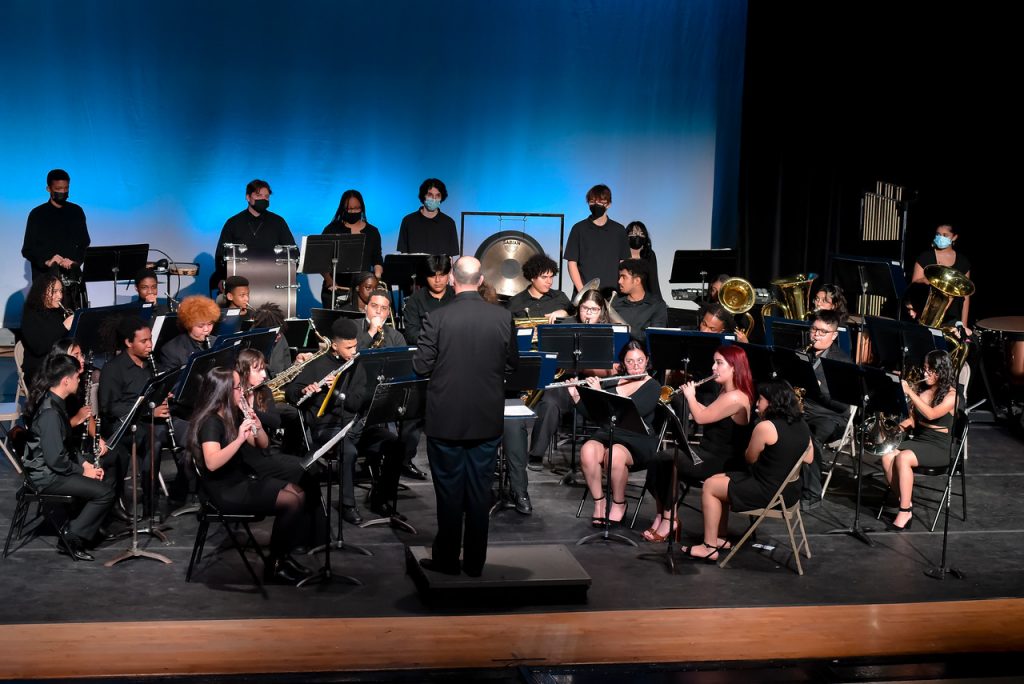 Students study music theory and history. They have the opportunity to engage in solo repertory, chamber music, and AP Music Theory. Students take large ensemble classes and perform on the main stage all four years.
Students may complete internships with cultural organizations and perform in special events.
Our Studio partners with Orchestra One, Julliard, 92Y, Jazz at Lincoln Center, All City Music Programs, and the New York Philharmonic to provide authentic experiences for our students.
We are a NYSSMA Festival Host. All students perform as soloists at the highest levels – regularly earning gold and gold with distinction honors.
What happens in the Studio?
Our music students present professional performances, playing repertoire such as Afro Blue, Blues in Hoss Flat, Bist due bei mir, Ave Maria, Lullaby Hoedown, and Invicta.
How do they do it?
Students engage in two to three periods of arts instruction a day and are expected to practice daily for a minimum of 30 minutes after school. The Music Room is open for practicing before and after school and during lunch. Some students even practice in the hall, sweetly serenading their peers.
Megan Delatour,
Strings

Megan Delatour began playing the viola at the age of eight. As a violist, she has had the opportunity to study with musicians such as Barry Lehr, Jennifer Arnold, Shelly Tramposh, Gregory Williams, Daniel Philips, Kerry Ryan and Brett Deubner. Ms. Delatour has extensive teaching experience including a teaching artist position for the InterSchool Orchestras of America; working with the three highest ensembles she has taken ensembles to perform at Symphony Space, Carnegie Hall, Trinity Church as well as collaborate with performing ensembles such as Orchestra of St. Luke and New York Philharmonic.
Philip Murphy,
Percussion, Woodwinds
Philip Murphy is a New York City based educator and woodwind artist. He is an award winning drumline instructor for the Fort Lee High School (NJ) Marching Bridgemen, and Associate Conductor of the Columbia University Wind Ensemble. Philip is also an accomplished woodwind performer, playing regularly on bassoon, saxophones, clarinets, and flute in a variety of settings, including on Broadway in Wicked and Bandstand, in the orchestra of the Radio City Spectacular, as Principal Bassoonist in the Brooklyn Symphony Orchestra and Park Avenue Chamber Symphony.
"Without music, life itself would be impossible!"
-Freiderich Nitschze